Event Detection Dogs (EDD) are specialists in explosive, pyrotechnic, firearms and drug detection
We provide highly visible qualified detection dogs and qualified professional handlers to support and enhance the existing security measures in place at stadiums and arenas.
EDD help to ensure stadiums and arenas are safe and secure before, during and after an event.
EDD consistently meets the highest level of performance standards. Our philosophy is simple: 'Only The Best Is Good Enough'.
EDD is part of Wagtail Holdings Ltd, international specialists in detection dogs and dog handler training. Wagtail Holdings Ltd currently has contracts with government agencies in the UK and overseas for explosive and drug detection dogs and related services.
Why choose EDD?
Proven track record at Premier League and UEFA Champions League Matches
Fully qualified and accredited handlers and dogs
Flexible, bespoke solutions including the training of your own inhouse detection dog teams
Fully licensed by the Home Office to store and keep explosives and drugs
ISO 9001 Accredited
£10 Million Public Liability Insurance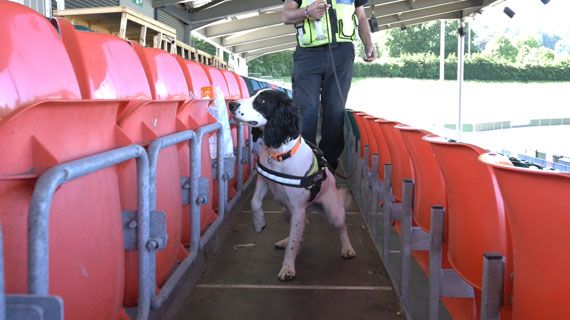 Dogs
Our dogs are mainly working dog breeds and are carefully selected for their keen sense of smell, drive, intelligence and temperament. We only select the best dogs.
50% of our dogs are unwanted pets or are from rescue centres, ensuring they are given a good home and life. When it's time to retire, a loving home is chosen by our dedicated rehoming centre, Red Paw.
During training, we expose the dogs to as many different environments as possible, ensuring the dog is adaptable and flexible to new situations.
We are Home Office approved to hold real training samples and have a full suite of training aids believing that training on real substance is best practice and a superior option to pseudo scent samples.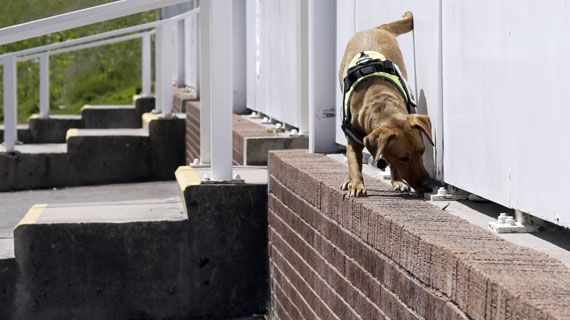 Handlers
The majority of our handlers come from military / police backgrounds.
They are self-motivated, professional and highly-trained.
Our handlers are experienced and well trained in knowing how to navigate complex scenarios. They have experience of working in a variety of environments including Afghanistan, Iraq, The Balkans, Northern Ireland and the UK mainland.
We are constantly evolving out staff training and continuation training in order to say ahead of emerging threats and advances perpetrator's techniques.